Long two years work of course managers and architects of GolfStream Project was marked by a presentation of the first finished product. To honor of this event, on July 12, 2008, the club held its first official Tournament — "Park Course Opening".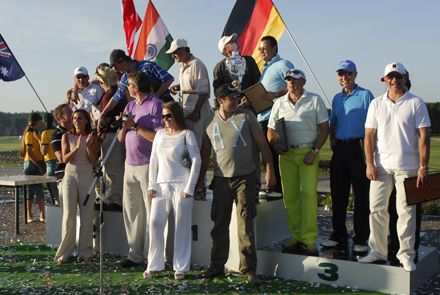 It is well known that big sport golf courses in Ukraine can be counted on one hand fingers. That is why the surprise GolfStream team presented for golf admirers is quite unique.
Park Course combines all qualities of a universal ground "to launch" all possible golf events. It is a traditional course for 9 holes with classical square tees, some sand and water bunkers. Golf Club considers it to be "the easiest" and mostly a course for novices and amateurs. Still, individual and inimitable design of greens should become interesting for advanced players, who can play and find interesting sport challenges on the course not waiting until classical 9 holes Club Course and champion 18 holes Chamberlain Course are open. 
Park Course is a course of a "romantic" design, elaborated in such a way, that in addition to sport "drive" it should build in player's mind a feeling of a walk along a real green and flourishing park. The idea will be finalized in several months, though now we can already hold full scale competitions here. The tournament is a proof mark of that.
The contest format was "scramble" 4 men. Teams played to 18 holes (in two rounds) starting simultaneously, two teams from two holes. Such a format provides an opportunity for  quite a number of golfers with different level of training to play on a medium-size course.  
Referee College of a contest is a follows: Alexey Sidorov (Chief Referee, Russian Golf Federation), Alexey Sokolov (Russia), Tony Westwood (Great Britain).
Golf players from 15 countries took part in the tournament, including from Great Britain, Australia, USA, Canada, Germany, Holland, Sweden, Switzerland, Poland, Moldova, Bulgaria, Russia, Croatia, Czech Republic. Different regions of Ukraine sent their delegations to represent them. Golf Club "Kozin" sent the biggest "team". In addition to that, there were guests from Lugansk, Kharkov, Zaporozhye, Myrgorod and Odessa, who included champions of Ukrainian national golf contests.
There were also some special guests of the tournament. Namely, Minister on Family, Youth and Sport Yuriy Pavlenko, President of Ukrainian Basketball Federation and an Olympic champion Alexandr Volkov, Director General of "Megasport" TV channel Alexandr Larin, Vice President of National Ukrainian Golf Federation Oleg Korban.
They named a winner after a play-off, because three teams came to finish of the  main part of the tournament with the same best results (56 hits to 18 holes).
There is a list of the winners and those who took additional encouraging prizes of Kiev Golf Club.
Julia Malimon — The Longest Drive nomination winner (220 m);
Ruslan Harkavenko — Closest to the Pin nomination winner (5 m);
Valeriy Varenitsa, Volodymyr Ivanov, Eduard Lanovik, Alyona Milavskaya — got an encouraging prize as The Most Modest Team of the Tournament (or the Team which allowed all the rest to be ahead);
Yuriy Boyko, Igor Zatravkin, Valeriy Kirmasov, Andriy Kulyk — the 3rd prize;
Alexey Kalinin, Dmitriy Postovalov, Alexandr Stepanov, Andriy Yurko — 2nd prize and a special award of Golf Federation of Ukraine — for a general contribution to the development of golf;
Fyodor Gogolev, Georgiy Grokhovskiy, Vadym Slusar, Peter Chamberlain — 1st prize and a transitional cup of the Club tournaments champions.
"Hanner" Co, which presents "Familia" community, is the Tournament Partner
"Familia": your house by a sea